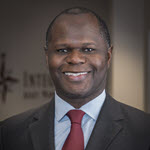 Sean Burke is a portfolio manager focusing on Integrity's Micro-Cap Value Equity strategy. He has more than 14 years of investment industry experience and has been on the value equity management team since 2011. In 2020, Sean attended the McKinsey & Company Black Leadership Academy. Here are some of his thoughts on the experience.
The program was created to help accelerate the progression of Black leaders in their organizations. I was invited to attend, not knowing exactly what to expect. The best way to describe the Academy is that it is akin to an online Executive MBA course.
There are three curricula: business strategy, problem-solving and business fundamentals. The fundamentals course teaches traditional business school disciplines, including finance, marketing, organizational behavior, and management.
The material is presented in modules as working case studies that the participants use to solve a specific issue. The material is laid out so that each module introduces specific tools to navigate the issue or problem. These tools help you to better see it, assess it, and resolve it. The tools set up the review process to check back and confirm that the issue was resolved according to your expectations.
Interestingly, the Academy teaches an approach that you might initially react to by thinking, sure that makes sense. But upon reflection you realize that you almost wouldn't have thought of it organically. The whole program was a series of those kind of lightbulb moments.
The most important thing for me is that it provided a lot of tools that I'd never heard of and that have a direct impact on my work. I research companies every day, and there were a lot of things in the Academy that I would not have thought of without it. So, it has really helped me do my job better.
My academic background is in biology and chemistry. I assumed I was headed to medical school. But my long-time fascination with stocks led me to the asset management business.
The Academy has helped me in my work. I have better insight into the type of things to ask company management about. I also have a new set of skills that I can use to further my career that I didn't have before. So, I am benefiting both personally and professionally from the Academy.